At Our Haven, high frequency attendance is key!
In order to progress with your training, see your strength and skills increase faster and see results faster, we recommend attending class at least 2x per week or more.
Our Havens in training can participate in weekly enrollment classes or on a drop ins basis. We also offer Private training which is a fantastic way to learn at a pace that's totally tailored to you and your goals.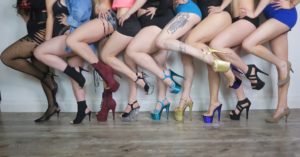 COVID – 19
OUR SCREENING QUESTIONNAIRE MUST BE FILLED OUT EACH DAY YOU REGISTER FOR A CLASS! PLEASE MAKE SURE THIS IS FILLED OUT PRIOR TO ENTERING THE STUDIO <3 
If you are signed up for 2 or 3 classes in a row, you do not need to fill out the questionnaire 2 or 3 times. Just once per day is great! 🙂
Options for our Weekly Drop In classes (+hst) 
Single / Drop In – $25 + hst
10 CLASS PASS – $180 + hst
20 CLASS PASS – $300 + hst
Private and Semi Private Lessons
1 hour – $80
Package of 5 – $375/hour (Save $25)
Package of 10 – $650 / hour (Save $150)
Add $20 per additional participant, per class, up to 4 people.
To sign up for classes, click on the class in the schedule below and follow prompts. You will need an account and a pre paid pass to enroll. Get the Schedule House APP here.
Cancellation Policy: We require 12 hours notice to cancel your class. Classes can be cancelled online from your account.  Please email the studio so that our administrators are able to handle your circumstances accordingly. There will be

no refunds

for expired passes or passes that have been used in any capacity. You

cannot

transfer your pass/credits/contracts etc to another person.